Dr. Eliana Lipsky
Giving with a Purpose
The holiday of Hanukkah is one I look forward to each year as it brings light to the winter that is settling in around us. At CESJDS we make sure to celebrate this light each day of Hanukkah for which we are in school. We had assemblies each day of Hanukkah, coordinated by Ms. Stephanie Hoffman, Director of Jewish Life. The theme for this year was "giving with purpose", both what we have been given and what we give to others. Three of the assemblies were for Middle School and High School students together, and three of the assemblies ran separately.

During the first Middle School assembly, students reflected on what values and traditions their families, their roots, have given them as individuals. Many students identified their roots as giving them a love of Judaism, Israel, and learning, and doing right by others. Students connected these core foundations as guiding their own values of practicing kindness, choosing "good over evil", studying Jewish text and about Israel, taking responsibility for their community, and on and on. One student beautifully wrote, "we are all different, but we stand ביחד (b'yahad/as one).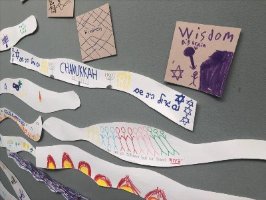 For the second Middle School assembly, students gathered in the gym and sat as one on the bleachers. Students were given a moment to think about their dreams, to think about one thing they aspire to accomplish in their lifetime. Students then turned to one another to share their dreams. In response to hearing someone's dream, the listener would offer, or give with purpose, encouragement, support, and even some advice on how the sharer might achieve their dream. It was exciting to hear students sharing about their aspirations to one day become a lawyer and in response to hear a friend offer the advice to stay on top of their homework and their studies. It was meaningful to hear a student share their goal in working to bring the world to a more socially just place for all and in response to hear a friend offer encouragement through the words, "if anyone can do it, you can."

The final Middle School assembly put a spotlight on giving gratitude with a purpose. Students wrote notes of gratitude to their peers. Some students thanked their peers for being great friends. Other students thanked their peers for being great learning partners or for helping them with homework. And others thanked their peers for bringing humor or lightness to their days. Every student received on their locker a note of gratitude specifically written to them from one of their peers.

As I reflect on these past few days, I am moved by the gift you are giving your children each day in choosing a Jewish education for them. In this spirit, I hope the light that comes from giving with purpose continues for all of us throughout the winter, filling us with warmth and gratitude for being part of a wonderful community steeped in Jewish values and creating a better world for all.